Elizabeth Jane Cochrane, or Nellie Bly as she came to be known, was born in Cochran's Mills, PA on May 5, 1864. Her paternal grandmother Catherine was one of Warren, PA's (later to be renamed Apollo, PA) earliest settlers. Her father Michael Cochran married Catherine Murphy in 1830 and moved to Cochran's Mills, PA. They had 10 children. Mary Ann, Robert Scott, Angeline, Isabella, John Michael, Thomas Jefferson, Julianna, George Washington, William Worth, and Mildred. Catherine died in 1857. In 1860 Michael married Mary Jane Kennedy & they continued to live in Cochran's Mills. They had 2 sons, Albert & Charles before Elizabeth Jane Cochran was born in 1864. Her younger sister Kate was born in 1866.
Elizabeth Jane was known as "Pink" because her mother dressed her in pink with white stockings, making her stand out from the other girls in their drab gray dresses.
Her father Michael Cochran was a judge for Armstrong County. Judge Cochran was considered quite wealthy and in 1869 when Elizabeth was 5, he moved the family to a grand two and 1/2 story mansion on Terrace Avenue in Apollo (Warren was incorporated as Apollo in 1848 due to their being another Warren in PA) The family had a cow, horse, and 2 dogs as well as a fine pleasure carriage. By this time all of the older 10 children had moved out on their own so it was just Michael, Mary Jane, and their 5 children living in the house. Elizabeth's younger brother Harry was born after the family moved to Apollo.
In 1870 tragedy struck…Judge Michael Cochran died without a will. Elizabeth's older brother petitioned the courts to have all of the property sold, including the beautiful new mansion. General Samuel Jackson was appointed the administrator of the estate. Mary Jane & her 5 children subsisted on about $16 a week. Elizabeth's mother still managed to give Elizabeth piano & organ lessons, as well as horseback riding.
In 1871 the family moved to 511 North 6th Street. Mary Jane purchased the property from Simon Truby and had a much smaller house built there.
Elizabeth went for one semester to the Indiana Normal School, but was forced to drop out due to lack of funds. She and her family moved to Pittsburgh, where she responded to an editorial in The Pittsburg Dispatch. The editor was so impressed with her writing that he hired her with the pen name of Nellie Bly.
Nellie wrote feature articles dealing divorce and slum life. She became known as an investigative reporter.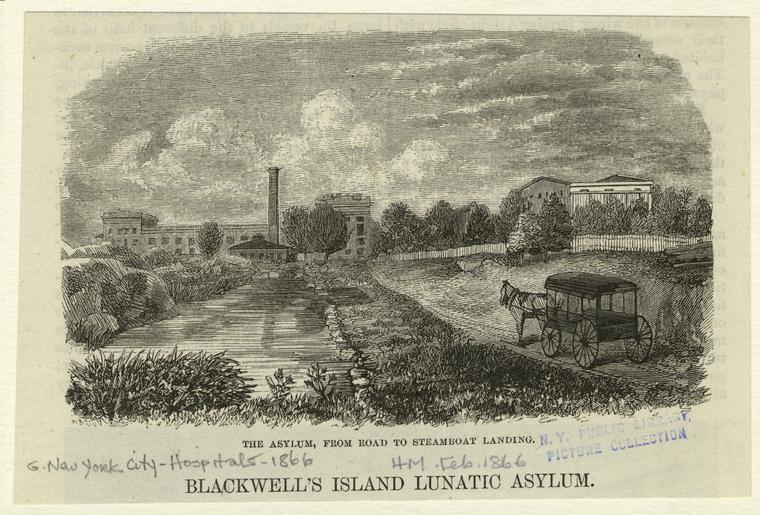 In March of 1887 Nellie Bly left Pittsburg for New York City.  She talked her way into an interview with Joseph Pulitzer, editor of the New York World.  She refused to take assignments about fashion & gardening.  In 1887, she proposed a story about the conditions on Blackwell's Island, home of the infamous Women's Lunatic Asylum.  By acting insane, she was committed to the asylum and later wrote, "What, excepting torture, would produce insanity quicker than this treatment?" referring to the cold showers, being forced to sit silent & unmoving for hours, and being fed awful spoiled food, to mention only a few things.  Many women living in to the asylum were not insane, but just didn't speak English!  After Nellie's articles were published, many improvements were made to the asylum. Nellie later wrote a book titled "Ten Days in a Madhouse".
Nellie interviewed many of the great national personalities of her day, including Civil War veteran Colonel William Sirwell of Kittanning, PA.
In 1889, in an attempt to beat the fictional record in Jules Verne's Around the World in Eighty Days, Nellie set off on a trip around the world. By carriage, boat, rickshaw, and train, Nellie circled the globe. She completed her journey in 72 days, 6 hours, 11 minutes, and 42 seconds. She came home with a pet monkey she had found in Singapore. The much publicized trip made her byname a celebrated synonym for a female star reporter.
In 1895 Nellie Bly married Robert Seaman. She was 31 and Robert was 73. Nellie retired from journalism and became the president of the Iron Clad Manufacturing Company, owned by Robert. The company made steel containers such as milk cans and boilers. Nellie got patents for a new milk can and a stacking garbage can to name a few. For a time, Nellie was one of the leading women industrialists in the country. When Robert died, she continued to run the company and made progress in the workplace for the workers. However several trusted managers swindled her and forced the company into bankruptcy in 1914.
Nellie fled to Austria to avoid court and visit a friend just at the outbreak of World War I. Nellie contacted the New York Evening Journal and became a war correspondent. What started as a short vacation turned into a five year tour of duty. Dr. Thomas J. Henry was proud to include Nellie's exploits in his 1916 History of Apollo with this quote "Nellie Bly or Miss Elizabeth Cochrane, locally known as Pink Cochrane, is a daughter of Judge Michael Cochran. She became famous as a newspaper reporter and for her daring to get copy. Her trip around the world beat Jules Verne's "Around the World in 80 Days". She is now in Vienna as a war correspondent. Her mother and two brothers, AP and Harry also made a trip around the world at a later period."
When Nellie returned from the war, her mother and brother Albert refused to return her property that she had left for them to manage. All her money was gone and even her souvenirs from her world trip had been sold. By now Nellie was more than 50 years old. She went to work for the Evening Journal and became the first woman to cover a title fight when Jack Dempsey fought Jess Willard for the heavyweight boxing crown on July 4, 1919. Nellie became an advocate for the poor and orphans. In May of 1921 court records show that Mrs. E.C. Seaman took Dorothy Coulter from an orphanage to raise her as her own. Unfortunately they were not together for long. On January 27, 1922 at the age of 57, Nellie Bly died of pneumonia.
Nellie Bly was buried in a pauper's grave in the Woodlawn Cemetery in New York City. For over 50 years, she did not even have a headstone until 1978 when the New York Press Club dedicated a headstone in honor of a famous news reporter.
On October 29, 1978 a millstone was dedicated to Nellie Bly in the area of Cochran's Mills where she was born. The town itself has disappeared, but Burrell Township has honored her with a marker.
Apollo, PA has also honored Nellie Bly's memory by dedicating a plaque outside her home on Terrace Avenue on July 22, 1994 from the Pennsylvania Historical and Museum Commission. A grand niece of Nellie's was able to attend the dedication ceremony. (pink dress below)